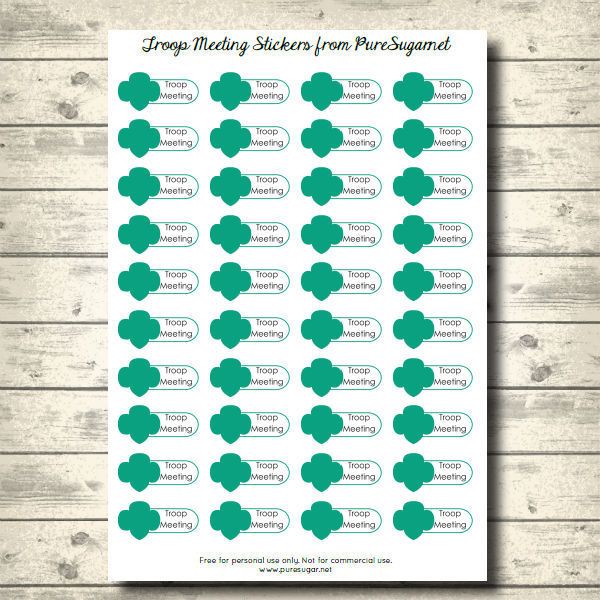 Oh, I have slacked on getting this free planner printable up, but also blogging in general. So, instead of waiting until yet another Friday I'm just putting them up here today!
Last fall my daughter eagerly joined Daisy Scouts and absolutely loves it. I have been a Cub Scout mom for many years, and now both of my boys are in Boy Scouts, so it really comes as no surprise that she wanted to join in the scouting fun. For a while I was using Daisy Scout stickers that I made to designate meeting times in my planner, but I didn't love them. So created these troop meeting stickers that will work for all phases of the Girl Scout program.
Download my FREE Troop Meeting Planner Stickers HERE.
I like to write the meeting time on the trefoil to make it stand out a little. They are nothing terribly fancy, but they work for me. Hopefully they'll work for you too! Enjoy!
As usual, my free planner printables are for personal use only and are licensed under a Creative Commons Attribution-NonCommercial-NoDerivatives 4.0 International License. Use an electronic cutting machine like a Silhouette Cameo to cut your stickers, print them out on regular printer paper and then cut and paste into your planner using a tape runner, or else print them on full-sheet labels and just hand-cut the stickers. I always appreciate being tagged (@carolwrites) in your IG pics if you use any of my free printables in your planner!