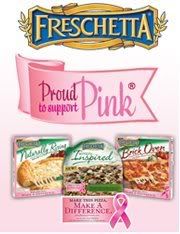 October is Breast Cancer Awareness Month and Freschetta is doing their part to support research through thier "Proud to Support Pink" program. From Sept. 25 – Oct. 31 when you purchase specially marked packages of FRESCHETTA pizza and Artisan Pizza Crusts, you will help them reach their goal of a $50,000 donation to the Memorial Sloan-Kettering Cancer Center.
Specially marked packages are printed with codes that you can enter at: www.ProudToSupportPink.com.
Each code entry equals a $1 donation to the center to support breast cancer research, up to $50,000.
You can also share your own story or a loved one's breast cancer journey, where they will be displayed on the site and on the FRESCHETTA Facebook page for inspiration.
When you  enter the code found on the back of packages you will be automatically entered into an online sweepstakes for the chance to win an iPod Shuffle. Fifty will be awarded each week. In addition, Freschetta will match the iPod prizes by donating an additional 200 to four selected cancer centers across the U.S. for patients to use during treatment. The cancer centers to receive the iPod Shuffle devices include:
Memorial Sloan-Kettering Cancer Center in New York
Jane Brattain Breast Center (Park Nicollet Health Services) in Minneapolis
Avon Foundation Breast Center (John Hopkins Medicine) in Baltimore
Seattle Breast Center (Northwest Hospital and Medical Center) in Seattle
Freschetta Proud To Support Pink Prize Pack Giveaway!
To help spread the word about the Freschetta Proud to Support Pink program, I'm hosting a giveaway for a great prize pack. The winner will recieve:
One full-value coupon for a free Freschetta pizza (up to $8.39)
Two pairs of Freschetta Proud to Support Pink earbuds – one for you and one to share with a friend (estimated value $25)
The prize will be mailed directly from Freschetta. To enter the giveaway, please use the Rafflecopter form below. Good luck!



Disclosure: I am a member of the Freschetta Fresh Connection Blog Team and received promotional material and a coupon as part of my participation in a campaign by Freschetta.  I did not receive any financial compensation for this post. The opinions expressed are my own.  This disclosure is in accordance with the Federal Trade Commission's 16 CFR, Part 255, Guides Concerning the Use of Endorsements and Testimonials in Advertising.