Good morning everyone and happy Monday! It's here! It's here! Summer is finally here! Friday was the last day of school for the kids and we decided to kick off the summer with a backyard movie ("Airplane!"). Most of our friends already had plans by the time we decided to do this, but a couple other families came and everyone really seemed to have a great time.
This is something we intend to do all summer long and honestly — it's the easiest kind of entertaining there is. No need to worry about about meal or how clean your house is (well, maybe the bathroom 😉 ). Everyone brings a blanket or some chairs and sets themselves up in the yard. We did have popcorn, Twizzlers, and lemonade and I think it was great.
Saturday morning Drew and Jake went off with the Boy Scouts. His troop was having a "summer camp shakedown" — a quick overnight camp out to prepare for camp in a few weeks. Drew just went for the morning and early afternoon to help out. While they were over at the state park, I took Noah and Laura to the library tag sale. One of our patrons had a fantastic idea for a massive tag sale to benefit the library. You paid for a spot, that went as a donation to the library, and it was your show from there. There were a lot of really nice items — not just your typical "yard sale" stuff. I held back, though, and only came away with a corner shelf for Laura's room (which I will repaint). I did let the kids get something though. Laura wanted a couple Beanie Babies and a pair of Snow White dress up shoes. And Noah was enamoured with a Domino Rally set.
Then we came home, had a bite for lunch, and decided to go to the lake. They had a blast splashing and playing in the sand!
We had burgers outside for dinner and then let the kids run through the sprinkler.
Yesterday was really low-key. I spent the morning browsing Pinterest and shopping online for a new slow cooker. My big 6-quart Crock Pot died about two months ago and I've been trying to see if we could live without it, but… I just can't do it. I need the big one for broth, ribs, roasts, etc. Add that to the list of kitchen gadgets decided to go ka-put. We also had to replace our toaster oven this month! Ugh… too bad there aren't Crock Pot/toaster appliance bundles. Anyway, I decided on a beautiful new slow cooker and I can't wait to get it!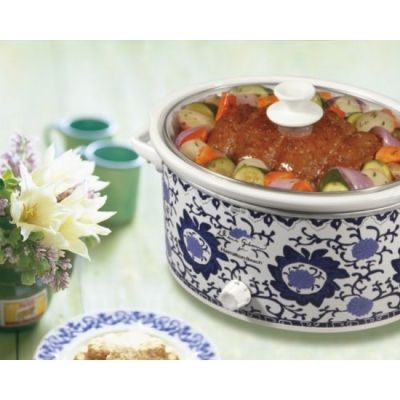 Jake got home around lunchtime and showed us what might be the most adorable bottle of Tabasco sauce that I've ever seen. One of the dads is in the service and brought some MREs on the camp out, and this was included with Jake's sloppy joe.
The most stunning thing about the entire weekend was this: yesterday afternoon we all napped. Yes, even me! I never sleep during the day unless I'm sick, but I guess I was just really tired. No matter, it was so relaxing. Then it was Crock Pot chicken tacos for dinner (outside again, of course), a run through the sprinkler, and we did another outdoor family movie (just us) because the screen was still up.
I really can't think of a better way to kick off summer. Of course, now it's Monday and back to work. But it was lovely to not have to make bag lunches or put kids on a bus, so I'm not going to complain 🙂 Hope your week is off to a great start!