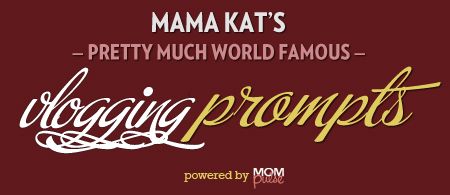 It's Wednesday, so again I'm linking up with MamaKat who does a weekly Vlogging Workshop. I missed last week due to the fact that I was just plain busy, so I hope you weren't crying because there wasn't one 😉 Anyway, I'm back on track this week and answering 32 random questions. I chose this prompt because I reminded me of when we all did these sorts of blog memes. Fun!
A few notes:
– As I mentioned, I was pulled over for speeding two times. Once, the cop had pulled over several people in a line and I just pulled over because I wasn't sure. I don't think he really was either because he just let me go. The second time was after our old Jeep had been hit and I was driving this awful rental car. It was red and it had NJ licence plates. I am convinced that made me a target! I probably was driving faster than the speed limit, but certainly with traffic. For whatever reason he just gave me a seatbelt violation (I always wear my seatbelt, but I think I unlatched it to look for paperwork in the glovebox.) Luckily that's been it!
– I talked about Cordelia's Dad. They are awesome. Drew's band toured with them in college. You should totally check them out.
– Finally, if you are a regular reader, you know that I'm a happy hooker (ha!). If you're new to the blog, you can check out some of my crochet-related posts if you're interested.
Thanks for reading and pretty, pretty please subscribe to my YouTube channel. Thanks!