As you may know, I work as a library director, though I don't talk about it too much here on my blog. One of the primary aspects of my job (and by far my favorite) is collection development. I love, love, love ordering books and I love, love, love getting all the new ones in. With that in mind (and with the suggestion from a friend!), I thought I'd start a monthly feature about what is being released and what looks especially interesting to me.
Typically I read non-fiction, horror, and suspense, but really I find all genres have books that I enjoy. I'll include info on releases I think other people might be excited about too, or those that are getting a buzz that I would recommend to library patrons. These are all books I have ordered for my library and I'm excited to share my picks with you. And by all means, if you're looking for suggestions for anything in particular feel free to contact me! So on with it, right?
The Only Good Indians by Stephen Graham Jones | July 14th, 2020
Seamlessly blending classic horror and a dramatic narrative with sharp social commentary, The Only Good Indians follows four American Indian men after a disturbing event from their youth puts them in a desperate struggle for their lives. Tracked by an entity bent on revenge, these childhood friends are helpless as the culture and traditions they left behind catch up to them in a violent, vengeful way.

Why I ordered it: This has got to be one of the most anticipated books of the year. I started hearing about it several months ago, and I'm eagerly awaiting its arrival. I don't love bloody, slasher horror. I love horror that is haunting, that makes you examine your world. From what I hear, this book fits the bill.
Survivor Song by Paul Tremblay | July 7th, 2020
In a matter of weeks, Massachusetts has been overrun by an insidious rabies-like virus that is spread by saliva. But unlike rabies, the disease has a terrifyingly short incubation period of an hour or less. Those infected quickly lose their minds and are driven to bite and infect as many others as they can before they inevitably succumb. Hospitals are inundated with the sick and dying, and hysteria has taken hold. To try to limit its spread, the commonwealth is under quarantine and curfew. But society is breaking down and the government's emergency protocols are faltering.

Dr. Ramola "Rams" Sherman, a soft-spoken pediatrician in her mid-thirties, receives a frantic phone call from Natalie, a friend who is eight months pregnant. Natalie's husband has been killed—viciously attacked by an infected neighbor—and in a failed attempt to save him, Natalie, too, was bitten. Natalie's only chance of survival is to get to a hospital as quickly as possible to receive a rabies vaccine. The clock is ticking for her and for her unborn child.

Natalie's fight for life becomes a desperate odyssey as she and Rams make their way through a hostile landscape filled with dangers beyond their worst nightmares—terrifying, strange, and sometimes deadly challenges that push them to the brink.
Why I ordered it: I am a huge fan of Paul Tremblay. I devoured his last book, Cabin at the End of the World, in a weekend. (And typically I'm a slow reader.) So honestly, I added this to my July purchases just because he's an author I like. Reading the description, it seems like the plot sounds a little familiar, right? Quarantine… crazy world… I know there will be twists and I can't wait for this one, too!
The Bright Lands by John Fram | July 7th, 2020
The town of Bentley holds two things dear: its football, and its secrets. But when star quarterback Dylan Whitley goes missing, an unremitting fear grips this remote corner of Texas.

Joel Whitley was shamed out of conservative Bentley ten years ago, and while he's finally made a life for himself as a gay man in New York, his younger brother's disappearance soon brings him back to a place he thought he'd escaped for good. Meanwhile, Sheriff's Deputy Starsha Clark stayed in Bentley; Joel's return brings back painful memories—not to mention questions—about her own missing brother. And in the high school hallways, Dylan's friends begin to suspect that their classmates know far more than they're telling the police. Together, these unlikely allies will stir up secrets their town has long tried to ignore, drawing the attention of dangerous men who will stop at nothing to see that their crimes stay buried.

But no one is quite prepared to face the darkness that's begun to haunt their nightmares, whispering about a place long thought to be nothing but an urban legend: an empty night, a flicker of light on the horizon—The Bright Lands.
Why I ordered it: This debut novel from John Fram is a supernatural thriller, and the premise sounded intriguing. I don't really understand "high school football" culture because it's not something I grew up with, but I feel like it could be an interesting backdrop to this story. I will warn you that the book does have strong language and some explicit content if that is a concern.
The Lost & Found Bookshop by Susan Wiggs | July 7th, 2020
In the wake of a shocking tragedy, Natalie Harper inherits her mother's charming but financially strapped bookshop in San Francisco. She also becomes caretaker for her ailing grandfather Andrew, her only living relative—not counting her scoundrel father.

But the gruff, deeply kind Andrew has begun displaying signs of decline. Natalie thinks it's best to move him to an assisted living facility to ensure the care he needs. To pay for it, she plans to close the bookstore and sell the derelict but valuable building on historic Perdita Street, which is in need of constant fixing. There's only one problem–Grandpa Andrew owns the building and refuses to sell. Natalie adores her grandfather; she'll do whatever it takes to make his final years happy. Besides, she loves the store and its books provide welcome solace for her overwhelming grief.

After she moves into the small studio apartment above the shop, Natalie carries out her grandfather's request and hires contractor Peach Gallagher to do the necessary and ongoing repairs. His young daughter, Dorothy, also becomes a regular at the store, and she and Natalie begin reading together while Peach works.

To Natalie's surprise, her sorrow begins to dissipate as her life becomes an unexpected journey of new connections, discoveries and revelations, from unearthing artifacts hidden in the bookshop's walls, to discovering the truth about her family, her future, and her own heart.
Why I ordered it: Susan Wiggs is a popular author, so I know many people who will check out this book. But beside from that, I think the story sounds heartwarming and positive.
A Walk Along the Beach by Debbie Macomber | July 14th, 2020
The Lakey sisters are perfect opposites. After their mother died and their father was lost in grief, Willa had no choice but to raise her sister, Harper, and their brother, Lucas. Then, as an adult, she put her own life on hold to nurse Harper through a terrifying illness. Now that Harper is better and the sisters are living as roommates, Willa has realized her dream of running her own bakery and coffee shop, bringing her special brand of caretaking to the whole Oceanside community.

Harper, on the other hand, is always on the go. Overcoming a terrible illness has given her a new lease on life, and she does not intend to waste it. When Harper announces her plan to summit Mount Rainier, Willa fears she may be pushing herself too far. Harper, for her part, urges Willa to stop worrying and do something outside of her comfort zone—like taking a chance on love with a handsome new customer.

Sean O'Malley is as charming as he is intriguing—a freelance photographer whose assignments take him to the ends of the earth. Soon Willa's falling for him in a way that is both exciting and terrifying. But life has taught Willa to hedge her bets, and she wonders whether the potential heartache is worth the risk.

Life has more challenges in store for them all. But both sisters will discover that even in the darkest moments, family is everything.
Why I ordered it: It's Debbie Macomber! Enough said.
Blacktop Wasteland by S.A. Cosby | July 14th, 2020
Beauregard "Bug" Montage is an honest mechanic, a loving husband, and a hard-working dad. Bug knows there's no future in the man he used to be: known from the hills of North Carolina to the beaches of Florida as the best wheelman on the East Coast.

He thought he'd left all that behind him, but as his carefully built new life begins to crumble, he finds himself drawn inexorably back into a world of blood and bullets. When a smooth-talking former associate comes calling with a can't-miss jewelry store heist, Bug feels he has no choice but to get back in the driver's seat. And Bug is at his best where the scent of gasoline mixes with the smell of fear.

Haunted by the ghost of who he used to be and the father who disappeared when he needed him most, Bug must find a way to navigate this blacktop wasteland…or die trying.
Why I ordered it: Lots of buzz. Lots of great reviews. I enjoy crime fiction, and flawed characters who have the best intentions and I think there's going to be a lot of excitement around this book.
The Cold Vanish: Seeking the Missing in North America's Wildlands by Jon Billman | July 7th, 2020
These are the stories that defy conventional logic. The proverbial vanished without a trace incidences, which happen a lot more (and a lot closer to your backyard) than almost anyone thinks. These are the missing whose situations are the hardest on loved ones left behind. The cases that are an embarrassment for park superintendents, rangers and law enforcement charged with Search & Rescue. The ones that baffle the volunteers who comb the mountains, woods and badlands. The stories that should give you pause every time you venture outdoors.

It's a tricky thing to write about missing persons because the story is the absence of someone. A void. The person at the heart of the story is thinner than a smoke ring, invisible as someone else's memory. The bones you dig up are most often metaphorical. While much of the book will embrace memory and faulty memory — history — The Cold Vanish is at its core a story of now and tomorrow. Someone will vanish in the wild tomorrow. These are the people who will go looking.
Why I ordered it: I am obsessed with stories of disappearances, and I have been as long as I can remember (thanks, Unsolved Mysteries). But this book doesn't focus as much on those who have disappeared, as those who go looking for them. It's a fresh perspective and I just know that some of these stories will tug at my heart.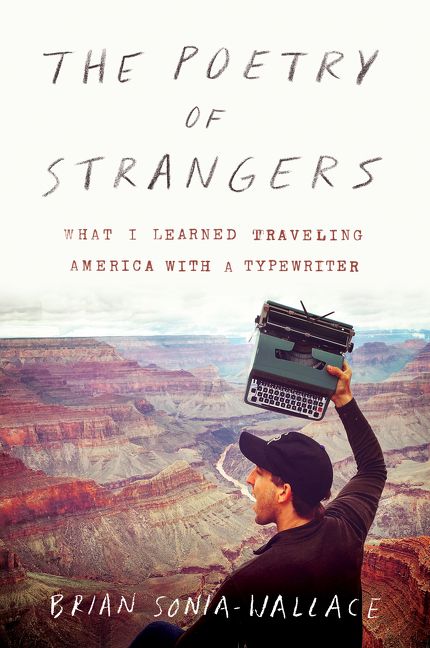 The Poetry of Strangers: What I Learned Traveling America with a Typewriter by Brian Sonia-Wallace | June 30th, 2020
Before he became an award-winning writer and poet, Brian Sonia-Wallace set up a typewriter on the street with a sign that said "Poetry Store" and discovered something surprising: all over America, people want poems. An amateur busker at first, Brian asked countless strangers, "What do you need a poem about?" To his surprise, passersby opened up to share their deepest yearnings, loves, and heartbreaks. Hundreds of them. Then thousands. Around the nation, Brian's poetry crusade drew countless converts from all walks of life.

In The Poetry of Strangers, Brian tells the story of his cross-country journey in a series of heartfelt and insightful essays. From Minnesota to Tennessee, California to North Dakota, Brian discovered that people aren't so afraid of poetry when it's telling their stories. In "dying" towns flourish vibrant artistic spirits and fascinating American characters who often pass under the radar, from the Mall of America's mall walkers to retirees on Amtrak to self-proclaimed witches in Salem.

In a time of unprecedented loneliness and isolation, Brian's journey shows how art can be a vital bridge to community in surprising places. Conventional wisdom says Americans don't want to talk to each other, but according to this poet-for-hire, everyone is just dying to be heard.

Thought-provoking, moving, and eye-opening, The Poetry of Strangers is an unforgettable portrait of America told through the hidden longings of one person at a time, by one of our most important voices today. The fault lines and conflicts which divide us fall away when we remember to look, in every stranger, for poetry.
Why I ordered it: I love poetry and feel that it does not get the attention it deserves. Poetry channels so much feeling and emotion and humanity, and yet over the years it's been elevated to some kind of unreachable literary form that "normal" people can't enjoy, which is not true at all. Poetry is for everyone, and I think this book sets out to show that's true! I'm excited for this one to arrive.
So there you have it… just a few of the July releases that seemed to pop out at me. I feel like this month there was a good variety. I'll be sure to pass on anything I missed and I'll try to do this again for August if anyone's interested!