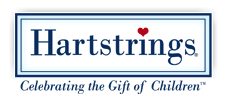 Do you guys remember the Hartstrings review I did a couple weeks ago? Well, the dress was a hit at the birthday party and held up well in the wash. I have since been eyeing an adorable Christmas dress for Laura. What do you think:

Obviously I love the traditional look for dressy outfits, but Hartstrings offers a variety of styles from classic to modern. And they are having an excellent Black Friday sale — everything  on their webiste (including sale items!) is an extra 20% off. If you hop over there you'll notice that many outfits are already discounted, so you can get 20% off on top of that.
If you haven't already found holiday outfits for your children, Friday would be a great time!