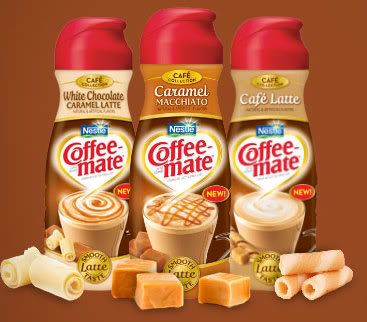 The dog days of summer are coming to an end — our schools starting in just about two weeks (and many already back in session). But that doesn't mean the warm weather is going to stop anytime soon. I plan on enjoying iced coffee drinks well into the fall, and I'll probably need the extra jolt of caffeine to get everyone ready and out the door on time!
One of my favorite ways to jazz up iced coffee is to use a flavored creamer. The folks over at Coffee-Mate sent me a to-go cup (perfect to take to the bus stop!), a coupon for a free bottle of Coffee-Mate creamer, and recipe cards with tasty ideas for fun beverages.
I've really been enjoying my own versions of expensive coffee shop-style iced coffees, thanks to their yummy Café Collection creamers. The flavors include Hazelnut Latte, Vanilla Latte, Café Mocha, Café Latte, White Chocolate Caramel Latte, and my favorite — Caramel Macchiato. I think that the next one I'm going to try is the White Chocolate Caramel Latte, which also sounds yummy.
I have the opportunity to give away a Coffee-Mate prize pack to one lucky reader so you can whip up some tasty treats of your own! You can enter up to four times — there is one mandatory entry and three optional entries. Just follow the prompts below! Good luck!
Disclosure: I received a coupon for a free bottle of Coffee-Mate creamer and a promotional item in exchange for my review. The opinions expressed are my own and I received no further compensation from Wasa or their representatives.